Home
Self-Bearing Panels
Vertical False Ceiling "V100"
Vertical Panels False Ceiling "V100"
Page 1 of 2
Open-type vertical panels false ceiling V100
The vertical panels open-type false ceiling V100 for special applications is characterized of being easy and fast to install.

This false ceiling is the ideal solution for large spaces, such as airports, waiting rooms, and a multitude of other areas with special requirements for ventilation, fire safety and access to electromechanical installations, since air can freely pass through the large gaps among the panels, the fire extinguishing systems can operate without problems in case of a fire emergency and access to the installations above the ceiling is very easy.
The false ceiling pitch is 100mm and consists of 100mm high vertical panels made of painted aluminum or steel strips and carriers made of painted galvanized steel.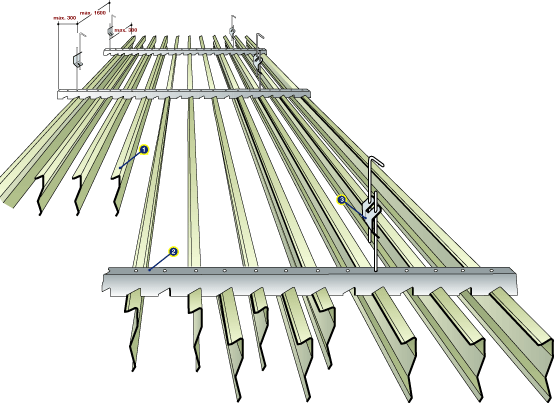 [1. Panels V100] [2. Carrier]
[3. Adjustable Suspension (Ø 4mm suspension rods & Double wing nut)]
Panels Specifications
Material: Aluminum 0.50mm thick
Material: Steel 0.40mm thick
Paint: Polyester furnace-dried paint white RAL9010, both sides
Specifications of Carriers
Panels click into the special slots of carriers.

Material: Galvanized steel
Paint: Color Black
Maximum distance between Carriers: 1600mm
Mounting of carriers per support point is from the structural ceiling above with galvanized Ø4mm Hangers and Double Butterflies for height adjust.
Last Updated Monday, 22 September 2014
Consulting by DARNEL ad
Copyright (C) 2008 Security Aluminum S.A. All rights reserved.