Home
Self-Bearing Panels
Self-Bearing Panels SB-H
Self-Bearing Panels SB-H200 & SB-H300
Page 1 of 2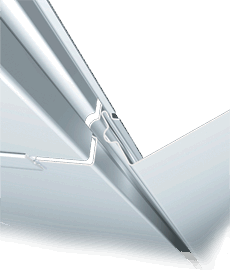 The self-bearing panels SB-H200 and SB-H300 are the ultimate choice for large areas, hotels, offices, hospitals, ships, restaurants, airports, corridors and utility areas with a multitude of electromechanical installations:
The self-bearing panels SB-H200 and SB-H300 are perforated and non perforated panels with a maximum length of three meters, sound absorption capacity, 300mm and 200mm wide respectively and 30mm tall, made of aluminum or galvanized steel coated with furnace-dried polyester paint.


The self-bearing panels are made in such a way that:
They click between them and don't require supporting carriers
There is no groove between them and therefore there is no collection of dust, germs and microorganisms and are easy to clean.
They are easy to assemble and disassemble for easy maintenance of installations above them and there is no wear when they are reassembled.
Special Characteristics

Panels clip to each other along their sides without creating a groove
Thus, any collection of germs, microorganisms and dust is minimized.
Additionally, the flat surface without grooves is easy to clean well [1].

The special design of strip edges 25mm, 30mm, 35mm tall provides the following:

a) Increased mechanical bending and torsional strength, which results in high load bearing capacity, a particular important quality in self-bearing systems.

b) Ensures equal balance between strips and therefore level of the false ceiling [2].
c) Ensures complete side contact with no gap in between [3].

To extend the length of panels, the appropriate support profile is installed.

One of the following profiles can be installed:

BANDRASTER - type profile
"Ω-omega" - type profile

A Wall Angle or a Recess Wall Angle can be installed around the false ceiling and where it meets the vertical structural elements (walls, supports, beams).

The special side design allows fast and easy assembly and disassembly of panels.
Last Updated Monday, 22 September 2014
Consulting by DARNEL ad
Copyright (C) 2008 Security Aluminum S.A. All rights reserved.