Home
Latest News
Stud 150/50 & 125/50 and Track 150/40 & 125/40
Stud 150/50 & 125/50 and Track 150/40 & 125/40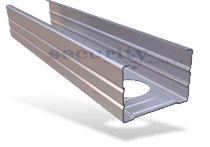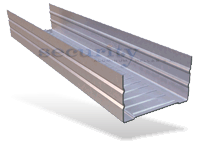 Our company is adding two new profiles in its dry-wall partition systems, Stud profiles 150/50 & 125/40 and Track profiles 150/40 & 125/40. These profiles are used in dry-wall partitions when there is a need of larger gap among the gypsum-boards, either for construction purposes, or for more fire resistance and thermal insulation
The nominal dimensions of the new Stud profiles are: width 149mm or 124mm, the one side edge 47mm and the other side edge 50mm. The nominal dimensions of the new Track profiles are: width 150mm or 125mm, and the two side edges are 40mm each.
The standard length of these two profiles is three meters long and they are manufactured according to the European Standard EN-14195 by high quality galvanized steel.
Last Updated Friday, 31 October 2014
Consulting by DARNEL ad
Copyright (C) 2001-2014 Security Aluminum S.A. All rights reserved.