Home
Latest News
New Omega wall lining profile 50/27
New Omega wall lining profile 50/27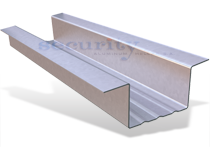 Our company introduces the new Omega wall lining profile 50/27. The new Omega wall lining profile can alternatively be used instead of the standard Omega wall lining profile, depending on the needs of the construction crew for the assembly of gypsum-boards on the existing wall.
This profile is assembled directly on the existing wall and its upper and lower edges are assembled into a standard perimeter runner, the same used for gypsum-boards ceilings.
The nominal dimensions of the new Omega wall lining profile is width 50mm, height 27mm and side edges 12mm.
Its length is three meters long and is manufactured according to the European Standard EN 14-195 by high quality galvanized steel.
Last Updated Friday, 31 October 2014
Consulting by DARNEL ad
Copyright (C) 2001-2014 Security Aluminum S.A. All rights reserved.