Home
Latest News
Duro-Steel D-527 Ceiling System
Duro-Steel D-527 Ceiling System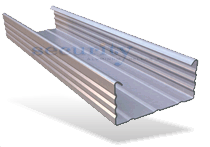 Security Aluminum Hellas presents its new dry-wall ceiling system "Duro-Steel D-527" and the new profile "Ceiling Profile CD 50/27".
The assembly of the new profile is done the same way as with the assembly of Ceiling Profile CD 60/27, the standard way by placing crosswise one below the other as main and secondary runner, either in the same level in case of limited available height.
The edges of the Ceiling Profile CD 50/27 (secondary runner) are placed into the standard ceiling perimeter profiles UD, which are firstly assembled in the wall.
The nominal dimensions of Ceiling Profile CD 50/27 are: width 50mm and height 27mm.
Our new drywall profile is made of high quality galvanized steel and manufactured according to the European standard EN-14195.
Last Updated Friday, 31 October 2014
Consulting by DARNEL ad
Copyright (C) 2001-2014 Security Aluminum S.A. All rights reserved.