Home
Latest News
Corner Bead profile 31/31, Ø5 perforated, 135 angle
Corner Bead profile 31/31, Ø5 perforated, 135 angle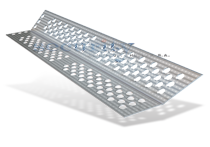 The new profile, Corner Bead 31/31 Ø5 perforated with 135° degrees angle, is our new addition to the existing profile series of gypsum-board edges protection.
This profile is necessary for special construction demands, such as in the case of a gypsum-board partition with 135° degrees angle, as it protects the edges of the gypsum-boards at their connection point.
The nominal dimensions of the Corner Bead 31/31 Ø5 135° are each side 31mm width, which shape a 135° angle among these sides. The length of each profile is three meters long.
Our new profile is made of high quality galvanized steel and is manufactured according to EN-14195 European standard.
Last Updated Friday, 31 October 2014
Consulting by DARNEL ad
Copyright (C) 2001-2014 Security Aluminum S.A. All rights reserved.