Home
Self-Bearing Panels
Linear False Ceilings
LINEAR FALSE CEILINGS
Security Aluminum Hellas produces steel and aluminum linear false ceilings of different types and shapes, such as false ceilings panels P85 & P185, self bearing panels SB-H200 & SB-H300, and the open-type panels false ceiling V100
Linear false ceilings are characterized by very fast and easy installation, great resistance to time and easy cleaning.
These characteristics make them the ultimate solution for professional areas and shops, as well as public infrastructure areas and buildings.
Linear false ceilings are made of high quality aluminum and steel, pre-painted with polyester furnace-dried paint in various colors.

Excellent Quality Specifications

The aluminum and steel false ceilings have excellent quality specifications since they are continuously controlled by our company's ISO 9001 certified quality system from E.Q.A. (European Quality Assurance).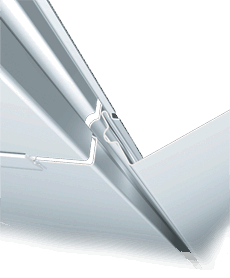 The self-bearing panels SB-H200 and SB-H300 are perforated and non perforated aluminum or galvanized steel panels with furnace-dried polyester paint, 200mm and 300mm wide respectively and maximum length of three meters.
Because of the following qualities the self-bearing panels SB-H200 and SB-H300 are the ultimate solution for large spaces, hotels, offices, hospitals, ships, restaurants, airports, corridors and public areas with a multitude of electromechanical installations:
The panels clip onto each other and thus do not require supporting guides.
There is no joint recess between panels and therefore there is no collection of germs, microorganisms and dust.
They are very easy to clean because they are flat and without joint recesses.
Disassembly of panels is easy and that is why maintenance of equipment installed above the ceiling is easy.
Reinstallation of panels is simple and easy and panels are not damaged.
Read more...
Linear false ceiling P85 is the fast and easy solution for false ceilings since installation is easy thanks to the panel and join profile clipping system on the carriers.

P85 False Ceiling (pitch 10cm) are composed of aluminum or steel panels and aluminum join profiles with furnace-dried polyester paint, galvanized steel carriers and perimeter profile of painted galvanized steel or aluminum.
Read more...
Consulting by DARNEL ad
Copyright (C) 2008 Security Aluminum S.A. All rights reserved.